Atlas 气动扳手---油压脉冲扳手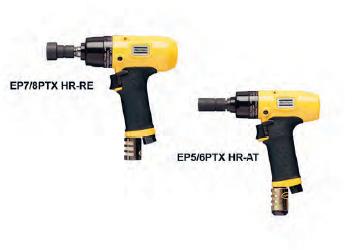 Atlas ErgoPulse系列气动油压脉冲扳手是定扭扳手,可以根据需要设定扭力值,精度比离合器扳手稍低,大概为10%;但此款工具最明显的优点是没有反作用力,无需配置反作用力臂,工人可单手操作;有枪式和直柄型两种型式;扭力范围为2-900NM;可以分为自动断气式和非自动断气式;也可以选择带正反转或不带反转的工具;调节扭力大小简洁方便,只要用随工具配送的手动起子在枪头部分逆时针或顺时针方向旋转螺丝即可;工具在使用过程当中要多注意维护保养,尽量在工具使用前在压缩空气里滴入润滑油,根据具体的使用操作频率制定相应的定期维护保养计划。
其具体特点如下:
EP PTX models
In ErgoPulse shut-off tools the air supply is shut off as soon as the pre-set torque has been reached, minimizing operator infl uence. The result is increased accuracy and faster tightening.
-High reliability.
-Consistent torque over time, low meanshift.
-High level of durability.
-High speed, short cycle times.
-One-handed operation.
-High power-to-weight ratio.
-No springs to wear out.
-No wear on key parts.
-High precision components.
-No reaction forces.
-Light, well-balanced tools.
-Low noise levels.
-Lubrication free.

EP PTS models
ErgoPulse PTS is the reliable and powerful workhorse and offers the same shut-off mechanism as the peak performer PTX. The PTS series has some air on top HRF models, making it possible to feed the air from above to the tool to make it easier to use in many applications. All PTS models can also be used as lubrication free, just like other ErgoPulse tools.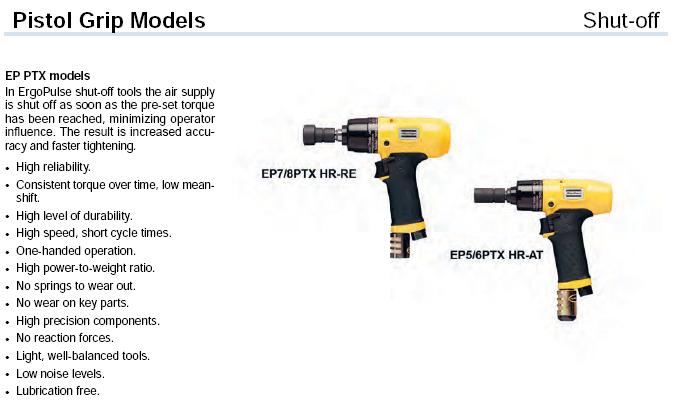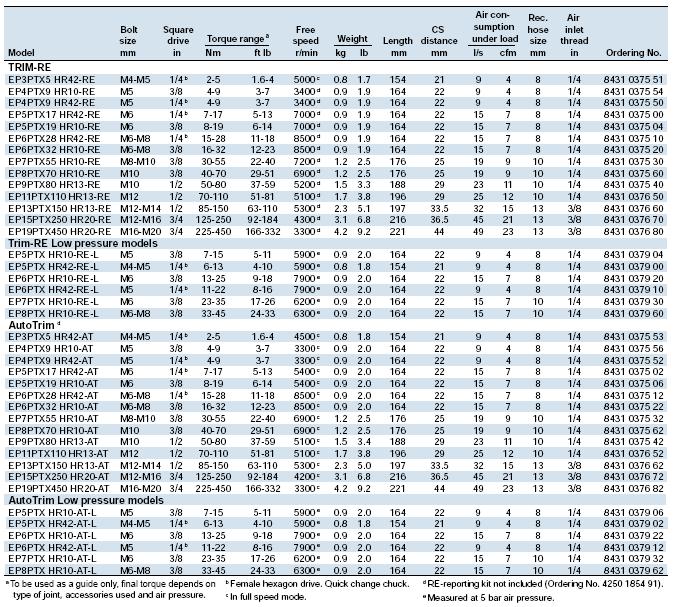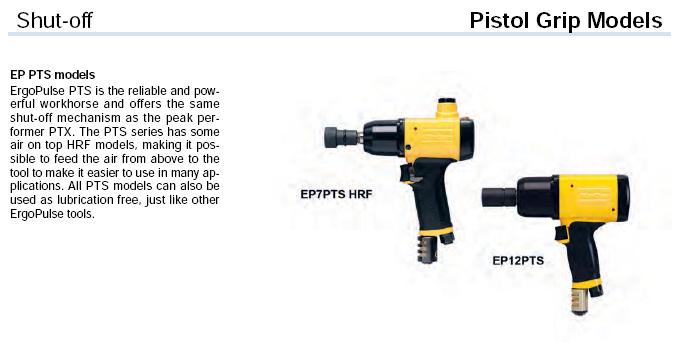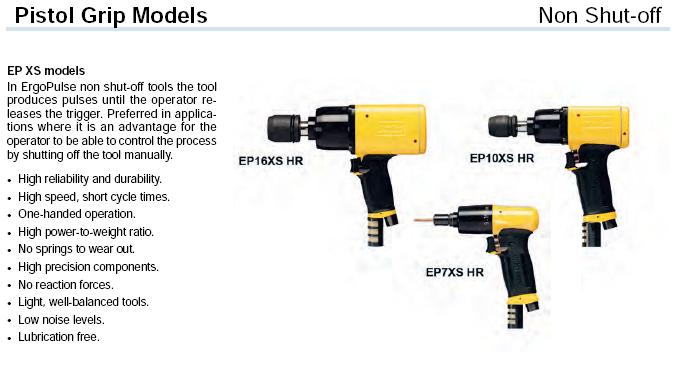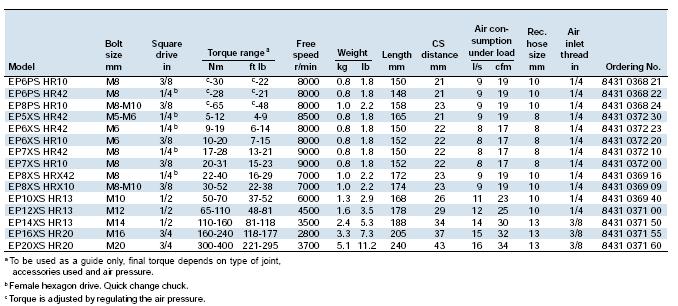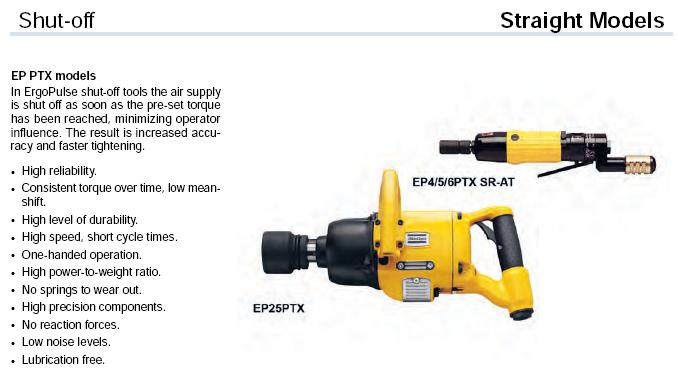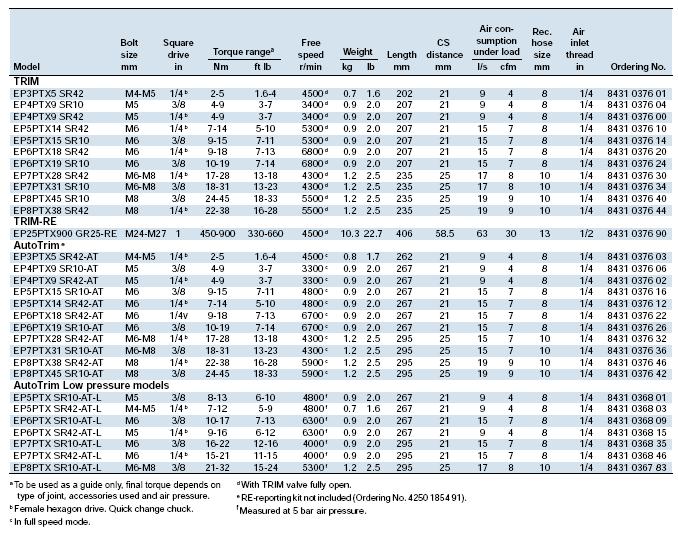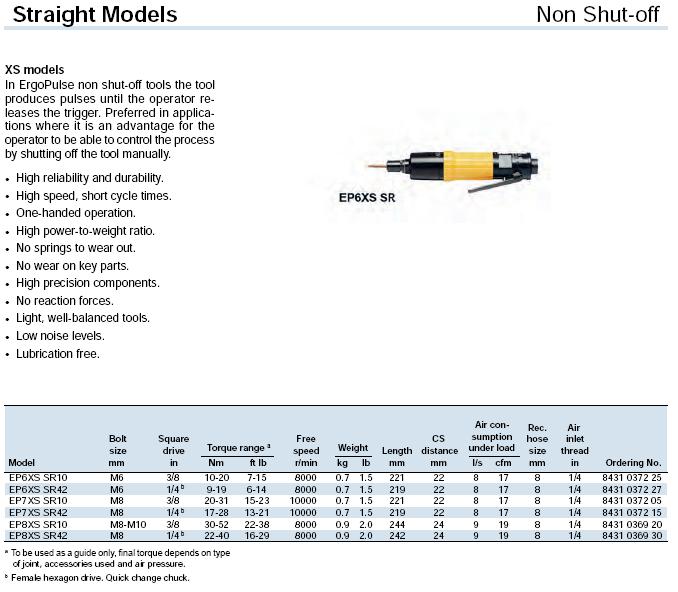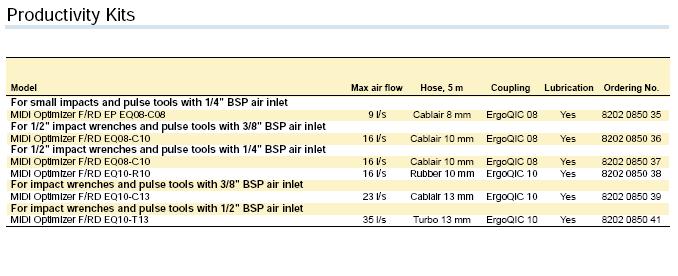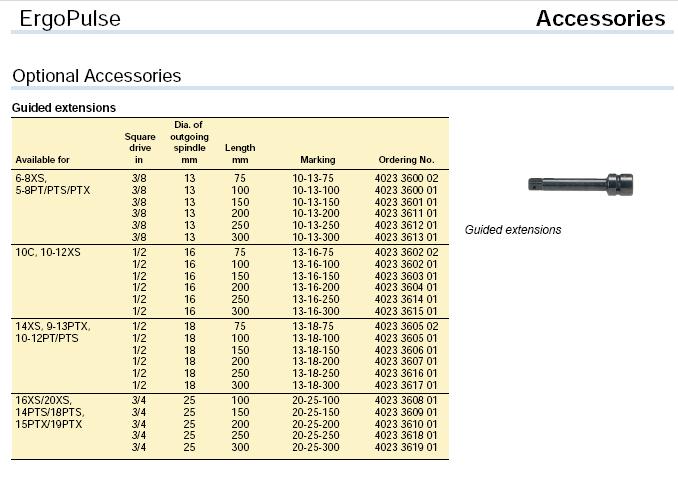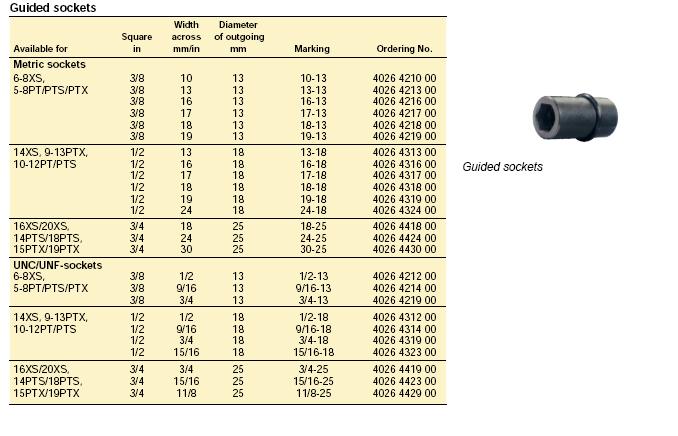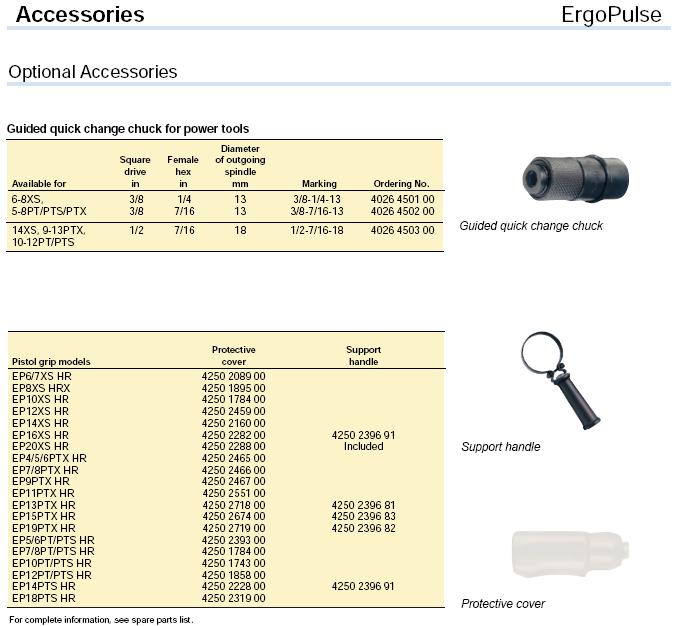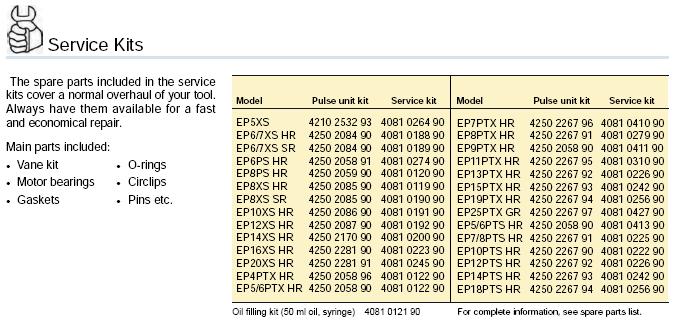 EP3PTX5 HR42-RE 8431 0375 51
EP4PTX9 HR10-RE 8431 0375 54
EP4PTX9 HR42-RE 8431 0375 50
EP5PTX17 HR42-RE 8431 0375 00
EP5PTX19 HR10-RE 8431 0375 04
EP6PTX28 HR42-RE 8431 0375 10
EP6PTX32 HR10-RE 8431 0375 20
EP7PTX55 HR10-RE 8431 0375 30
EP8PTX70 HR10-RE 8431 0375 60
EP9PTX80 HR13-RE 8431 0375 40
EP11PTX110 HR13-RE 8431 0376 50
EP13PTX150 HR13-RE 8431 0376 60
EP15PTX250 HR20-RE 8431 0376 70
EP19PTX450 HR20-RE 8431 0376 80
EP5PTX HR10-RE-L 8431 0379 04
EP5PTX HR42-RE-L 8431 0379 00
EP6PTX HR10-RE-L 8431 0379 20
EP6PTX HR42-RE-L 8431 0379 10
EP7PTX HR10-RE-L 8431 0379 30
EP8PTX HR10-RE-L 8431 0379 60
EP3PTX5 HR42-AT 8431 0375 53
EP4PTX9 HR10-AT 8431 0375 56
EP4PTX9 HR42-AT 8431 0375 52
EP5PTX17 HR42-AT 8431 0375 02
EP5PTX19 HR10-AT 8431 0375 06
EP6PTX28 HR42-AT 8431 0375 12
EP6PTX32 HR10-AT 8431 0375 22
EP7PTX55 HR10-AT 8431 0375 32
EP8PTX70 HR10-AT 8431 0375 62
EP9PTX80 HR13-AT 8431 0375 42
EP11PTX110 HR13-AT 8431 0376 52
EP13PTX150 HR13-AT 8431 0376 62
EP15PTX250 HR20-AT 8431 0376 72
EP19PTX450 HR20-AT 8431 0376 82
EP5PTX HR10-AT-L 8431 0379 06
EP5PTX HR42-AT-L 8431 0379 02
EP6PTX HR10-AT-L 8431 0379 22
EP6PTX HR42-AT-L 8431 0379 12
EP7PTX HR10-AT-L 8431 0379 32
EP8PTX HR10-AT-L 8431 0379 62
8431037551
8431037554
8431037550
8431037500
8431037504
8431037510
8431037520
8431037530
8431037560
8431037540
8431037650
8431037660
8431037670
8431037680
8431037904
8431037900
8431037920
8431037910
8431037930
8431037960
8431037553
8431037556
8431037552
8431037502
8431037506
8431037512
8431037522
8431037532
8431037562
8431037542
8431037652
8431037662
8431037672
8431037682
8431037906
8431037902
8431037922
8431037912
8431037932
8431037962
EP5PTS12 HR42-RE 8431 0374 05
EP5PTS14 HR10-RE 8431 0374 00
EP6PTS22 HR10-RE 8431 0374 20
EP6PTS20 HR42-RE 8431 0374 15
EP7PTS30 HR42-RE 8431 0374 35
EP7PTS35 HR10-RE 8431 0374 40
EP8PTS40 HR42-RE 8431 0374 55
EP8PTS55 HR10-RE 8431 0374 60
EP10PTS90 HR13-RE 8431 0374 80
EP12PTS150 HR13-RE 8431 0374 90
EP14PTS250 HR20-RE 8431 0374 95
EP18PTS410 HR20-RE 8431 0374 98
EP7PTS35 HRF10-RE 8431 0374 41
EP8PTS55 HRF10-RE 8431 0374 61
EP10PTS90 HRF13-RE 8431 0374 81
EP6PTS20 HR42-AT 8431 0374 16
EP6PTS22 HR10-AT 8431 0374 21
EP7PTS30 HR42-AT 8431 0374 37
EP7PTS35 HR10-AT 8431 0374 42
EP8PTS40 HR42-AT 8431 0374 57
EP8PTS55 HR10-AT 8431 0374 62
EP10PTS90 HR13-AT 8431 0374 82
EP12PTS150 HR13-AT 8431 0374 92
EP14PTS250 HR20-AT 8431 0374 97
EP18PTS410 HR20-AT 8431 0374 99
8431037405
8431037400
8431037420
8431037415
8431037435
8431037440
8431037455
8431037460
8431037480
8431037490
8431037495
8431037498
8431037441
8431037461
8431037481
8431037416
8431037421
8431037437
8431037442
8431037457
8431037462
8431037482
8431037492
8431037497
8431037499
EP6PS HR10 8431 0368 21
EP6PS HR42 8431 0368 22
EP8PS HR10 8431 0368 24
EP5XS HR42 8431 0372 30
EP6XS HR42 8431 0372 23
EP6XS HR10 8431 0372 20
EP7XS HR42 8431 0372 10
EP7XS HR10 8431 0372 00
EP8XS HRX42 8431 0369 16
EP8XS HRX10 8431 0369 09
EP10XS HR13 8431 0369 40
EP12XS HR13 8431 0371 00
EP14XS HR13 8431 0371 50
EP16XS HR20 8431 0371 55
EP20XS HR20 8431 0371 60
8431036821
8431036822
8431036824
8431037230
8431037223
8431037220
8431037210
8431037200
8431036916
8431036909
8431036940
8431037100
8431037150
8431037155
8431037160
EP3PTX5 SR42 8431 0376 01
EP4PTX9 SR10 8431 0376 04
EP4PTX9 SR42 8431 0376 00
EP5PTX14 SR42 8431 0376 10
EP5PTX15 SR10 8431 0376 14
EP6PTX18 SR42 8431 0376 20
EP6PTX19 SR10 8431 0376 24
EP7PTX28 SR42 8431 0376 30
EP7PTX31 SR10 8431 0376 34
EP8PTX45 SR10 8431 0376 40
EP8PTX38 SR42 8431 0376 44
EP25PTX900 GR25-RE 8431 0376 90
EP3PTX5 SR42-AT 8431 0376 03
EP4PTX9 SR10-AT 8431 0376 06
EP4PTX9 SR42-AT 8431 0376 02
EP5PTX15 SR10-AT 8431 0376 16
EP5PTX14 SR42-AT 8431 0376 12
EP6PTX18 SR42-AT 8431 0376 22
EP6PTX19 SR10-AT 8431 0376 26
EP7PTX28 SR42-AT 8431 0376 32
EP7PTX31 SR10-AT 8431 0376 36
EP8PTX38 SR42-AT 8431 0376 46
EP8PTX45 SR10-AT 8431 0376 42
EP5PTX SR10-AT-L 8431 0368 01
EP5PTX SR42-AT-L 8431 0368 03
EP6PTX SR10-AT-L 8431 0368 09
EP6PTX SR42-AT-L 8431 0368 15
EP7PTX SR10-AT-L 8431 0368 35
EP7PTX SR42-AT-L 8431 0368 46
EP8PTX SR10-AT-L 8431 0367 83
8431037601
8431037604
8431037600
8431037610
8431037614
8431037620
8431037624
8431037630
8431037634
8431037640
8431037644
8431037690
8431037603
8431037606
8431037602
8431037616
8431037612
8431037622
8431037626
8431037632
8431037636
8431037646
8431037642
8431036801
8431036803
8431036809
8431036815
8431036835
8431036846
8431036783
EP6XS SR10 8431 0372 25
EP6XS SR42 8431 0372 27
EP7XS SR10 8431 0372 05
EP7XS SR42 8431 0372 15
EP8XS SR10 8431 0369 20
EP8XS SR42 8431 0369 30
8431037225
8431037227
8431037205
8431037215
8431036920
8431036930
8202 0850 35
8202 0850 36
8202 0850 37
8202 0850 38
8202 0850 39
8202 0850 41
8202085035
8202085036
8202085037
8202085038
8202085039
8202085041
4023 3600 02
4023 3600 01
4023 3601 01
4023 3611 01
4023 3612 01
4023 3613 01
4023 3602 02
4023 3602 01
4023 3603 01
4023 3604 01
4023 3614 01
4023 3615 01
4023 3605 02
4023 3605 01
4023 3606 01
4023 3607 01
4023 3616 01
4023 3617 01
4023 3608 01
4023 3609 01
4023 3610 01
4023 3618 01
4023 3619 01
4026 4210 00
4026 4213 00
4026 4216 00
4026 4217 00
4026 4218 00
4026 4219 00
4026 4313 00
4026 4316 00
4026 4317 00
4026 4318 00
4026 4319 00
4026 4324 00
4026 4418 00
4026 4424 00
4026 4430 00
4026 4212 00
4026 4214 00
4026 4219 00
4026 4312 00
4026 4314 00
4026 4319 00
4026 4323 00
4026 4419 00
4026 4423 00
4026 4429 00
4023360002
4023360001
4023360101
4023361101
4023361201
4023361301
4023360202
4023360201
4023360301
4023360401
4023361401
4023361501
4023360502
4023360501
4023360601
4023360701
4023361601
4023361701
4023360801
4023360901
4023361001
4023361801
4023361901
4026421000
4026421300
4026421600
4026421700
4026421800
4026421900
4026431300
4026431600
40264317 00
40264318 00
40264319 00
40264324 00
40264418 00
40264424 00
40264430 00
40264212 00
40264214 00
40264312 00
40264314 00
40264319 00
40264323 00
40264419 00
40264423 00
40264429 00
4026 4501 00
4026 4502 00
4026 4503 00
4026450100
4026450200
4026450300
4250 2089 00
4250 1895 00
4250 1784 00
4250 2459 00
4250 2160 00
4250 2282 00
4250 2396 91
4250 2288 00
4250 2465 00
4250 2466 00
4250 2467 00
4250 2551 00
4250 2718 00
4250 2396 81
4250 2674 00
4250 2396 83
4250 2719 00
4250 2396 82
4250 2393 00
4250 1784 00
4250 1743 00
4250 1858 00
4250 2228 00
4250 2396 91
4250 2319 00
4250208900
4250189500
4250178400
4250245900
4250216000
4250228200
4250239691
4250228800
4250246500
4250246600
4250246700
4250255100
4250271800
4250239681
4250267400
4250239683
4250271900
4250239682
4250239300
4250178400
4250174300
4250185800
4250222800
4250239691
4250231900
4210 2532 93
4081 0264 90
4250 2084 90
4081 0188 90
4250 2084 90
4081 0189 90
4250 2058 91
4081 0274 90
4250 2059 90
4081 0120 90
4250 2085 90
4081 0119 90
4250 2085 90
4081 0190 90
4250 2086 90
4081 0191 90
4250 2087 90
4081 0192 90
4250 2170 90
4081 0200 90
4250 2281 90
4081 0223 90
4250 2281 91
4081 0245 90
4250 2058 96
4081 0122 90
4250 2058 90
4081 0122 90
4250 2267 96
4081 0410 90
4250 2267 91
4081 0279 90
4250 2058 90
4081 0411 90
4250 2267 95
4081 0310 90
4250 2267 92
4081 0226 90
4250 2267 93
4081 0242 90
4250 2267 94
4081 0256 90
4250 2267 97
4081 0427 90
4250 2058 90
4081 0413 90
4250 2267 91
4081 0225 90
4250 2267 90
4081 0222 90
4250 2267 92
4081 0226 90
4250 2267 93
4081 0242 90
4250 2267 94
4081 0256 90
4210253293
4081026490
4250208490
4081018890
4250208490
4081018990
4250205891
4081027490
4250205990
4081012090
4250208590
4081011990
4250208590
4081019090
4250208690
4081019190
4250208790
4081019290
4250217090
4081020090
4250228190
4081022390
4250228191
4081024590
4250205896
4081012290
4250205890
4081012290
4250226796
4081041090
4250226791
4081027990
4250205890
4081041190
4250226795
4081031090
4250226792
4081022690
4250226793
4081024290
4250226794
4081025690
4250226797
4081042790
4250205890
4081041390
4250226791
4081022590
4250226790
4081022290
4250226792
4081022690
4250226793
4081024290
4250226794
4081025690